The sitka sound science center presents
SITKA WHALEFEST
November 4 – November 6 2016
2016 is the 20th Anniversary of the Sitka WhaleFest, a unique science festival to celebrate the marine life! The core of the festival, is a unique science symposium blending local knowledge and scientific inquiry concerning the rich marine environment of our northern oceans. Surrounded by community and cultural activities, the weekend events include lectures, marine wildlife cruises with beautiful scenery, a marine-themed artisan market, music, local foods, art show, interactive student sessions, and a fun run/walk. Come to Sitka WhaleFest and celebrate with us!
Festival dates are November 4 – 6, 2016
Online registration is now available at:  http://www.cvent.com/d/6fqhr7
Paper Tickets will be available at the Sitka Sound Science Center beginning  on October 1st and at Old Harbor Books on October 20th.

Whales Through Time: the Story Continues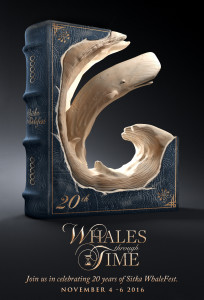 As part of its special twentieth anniversary,  Sitka WhaleFest will focus on whales as a time telling device – what we've learned in the last twenty years, what whale science is revealing about our changing planet today, and how the study of whales connects the world into the future.   For 20 years, Sitka WhaleFest has brought marine scientists from around the globe to share current scientific research with an eager and interested audience.  For a generation, researchers from a variety of disciplines have reported on new scientific thinking and innovative  tools to study the ocean.
Science has demonstrated over and over how oceans influence every inch of the planet. Whether we are on the coast of Alaska, or in the middle of the Great Plains, we all live with the sea.   Speakers at the 2016 symposium will present on the exciting innovations in whale research and  how whales connect us all.
World-renowned scientists come to Sitka to share their current research findings on a wide range of subjects during a three-day symposium.  This innovative science outreach program gives future scientists and life-long learners opportunities to meet and learn from a diverse group of scientists who are passionate about their research.  Each afternoon, symposium participants and guest speakers will explore a daily theme connected to the overall them of the symposium.  Questions and discussion will involve the following topics:
DAY 2
Prevailing Perspectives
DAY 3
Deciding our Legacy
NOV
4
Jim Darling
"Songs Across the Pacific"
1:00 – 1:45 pm
______________________________
John Ford
"40 Years of Killer Whales and our impact"
2:00 – 2:45 pm
______________________________
Craig George & Billy Adams
"Two Perspectives of the Bowhead – Science and Inupiat"
3:00 – 3:45 pm
NOV
5
Trish Lavery
"A Whale Poop Tale"
1:00 – 1:45 pm
______________________________
Travis Horton
"Humpback whale migrations through space and time"
2:00 – 2:45 pm
______________________________
Alex Werth
"Meal Time: Lessons from Whales about the Evolutionary Past and Technological Future"
3:00 – 3:45 pm
NOV
6
Ellen Chenoweth
"Getting along in a world with more whales"
1:00 – 1:45 pm
______________________________
Jan Straley & Mike Castellini
"WhaleFest 2036"
2:00 – 3:30 pm
Travel
Stay
Beautiful Sitka lies along the coastal edge of Baranof Island in the Tongass National Forest and spectacular Southeast Alaska.  This remote community, with its myriad forested islands and rugged coastline, is home to whales and other marine mammals that can be observed each November during Sitka WhaleFest.  Enjoy delicious local seafood and shop Sitka's many galleries and shops.  Sitka's weather this time of year is in the 40's and lower 50's.  Rain or shine, the festival will go on!
Photography credit: Tim Shobe, Foggy Lens Photography, Madison Kosma and Caitlin Blaisdell.