The sitka sound science center presents
SITKA WHALEFEST
November 3 – November 6 2016
2016 is the 20th Anniversary of the Sitka WhaleFest, a unique science festival to celebrate the marine life! The core of the festival, is a unique science symposium blending local knowledge and scientific inquiry concerning the rich marine environment of our northern oceans. Surrounded by community and cultural activities, the weekend events include lectures, marine wildlife cruises with beautiful scenery, a marine-themed artisan market, music, local foods, art show, interactive student sessions, and a fun run/walk. Come to Sitka WhaleFest and celebrate with us!
Festival dates are November 3 – 6, 2016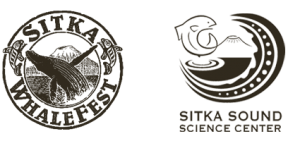 Check back here for the 2016 WhaleFest theme.
Travel
Stay
Beautiful Sitka lies along the coastal edge of Baranof Island in the Tongass National Forest and spectacular Southeast Alaska. This remote community, with its myriad forested islands and rugged coastline, is home to whales and other marine mammals that can be observed each November during Sitka WhaleFest. Enjoy delicious local seafood and shop Sitka's many galleries and shops. Sitka's weather this time of year is in the 40's and lower 50's. Rain or shine, the celebration will go on!
Photography credit: Tim Shobe, Foggy Lens Photography, Madison Kosma and Caitlin Blaisdell.