Sitka Whalefest
November 1-4 2018
Sitka WhaleFest is a unique science festival to celebrate marine life! The core of the festival, is a unique science symposium blending local knowledge and scientific inquiry of the rich marine environment of our northern oceans.  Surrounded by community and cultural activities, the weekend events include lectures, marine wildlife cruises in beautiful Sitka Sound, a marine-themed artisan market, music, local foods, art show, interactive student sessions, and a fun run/walk.  Come to Sitka WhaleFest and celebrate with this unique tradition with our community.
Online Registration will begin on June 1st, 2018.  Paper Tickets will be available at Old Harbor Books (201 Lincoln Street) on October 19th.

WhaleFest Theme
The 2017 Sitka WhaleFest's theme was "The Making-Of: Behind the Scenes of Science." It focused on the lesser-known aspects of marine science: the serendipitous moments that inspire scientists to dive into their research; what drives their curiosity and makes them tick; the connections that link to other marine research; and lastly, what scientists do with their findings– should scientists take action and become advocates, or let the science speak for itself?
Stay tuned for the 2018 Sitka WhaleFest theme!
Sign up for updates by sending your email or mailing address to whalefest@sitkascience.org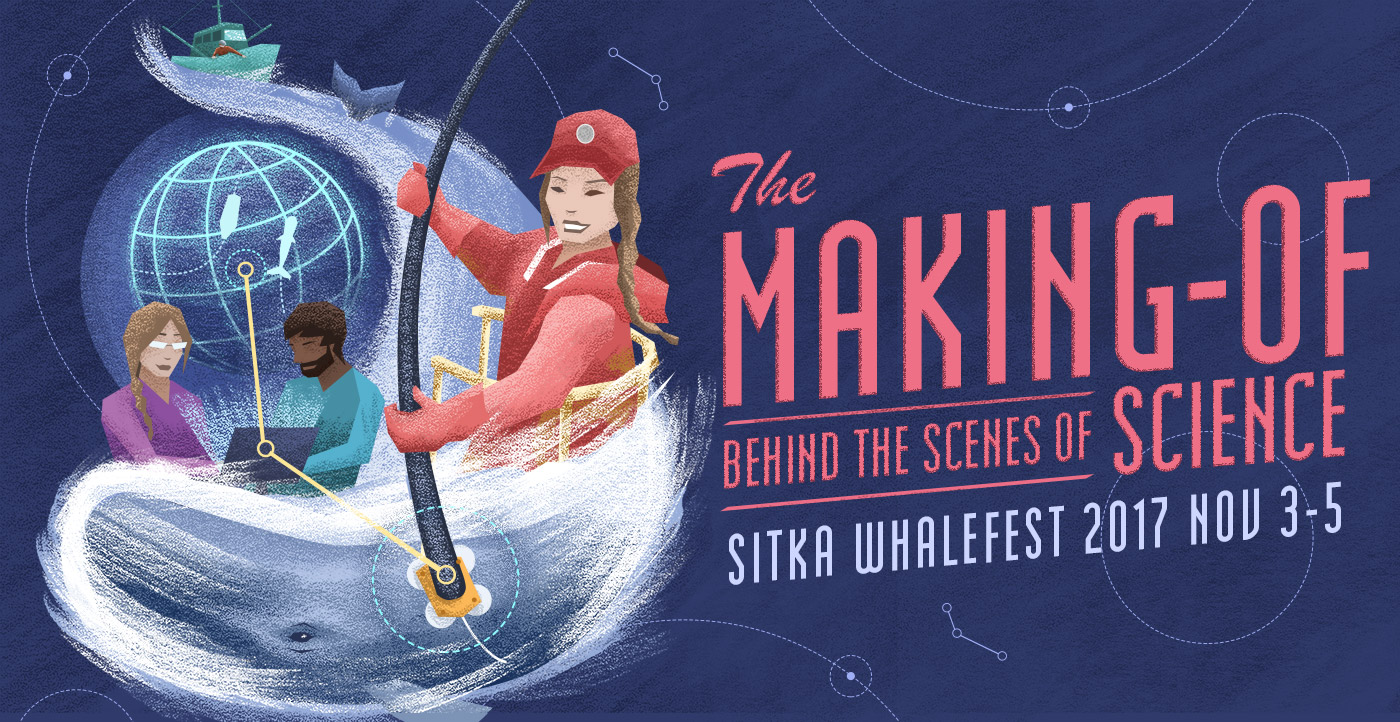 Science Symposium Speakers
Perhaps the most popular event at Sitka WhaleFest is the three-day symposium, where world-renowned scientists share their current research on a wide-range of subjects. This innovative science outreach event gives future scientists and lifelong learners opportunities to meet and interact with the passionate and diverse group of speakers. Each afternoon, symposium participants and guest speakers will explore a daily theme connected to the overall theme of the symposium.
DAY 1: Serendipity
(When fate lends a hand)
DAY 2: Linking Up
(Finding your collaborators in unexpected places)
DAY 3: Action
(Science as policy; what makes results convincing?)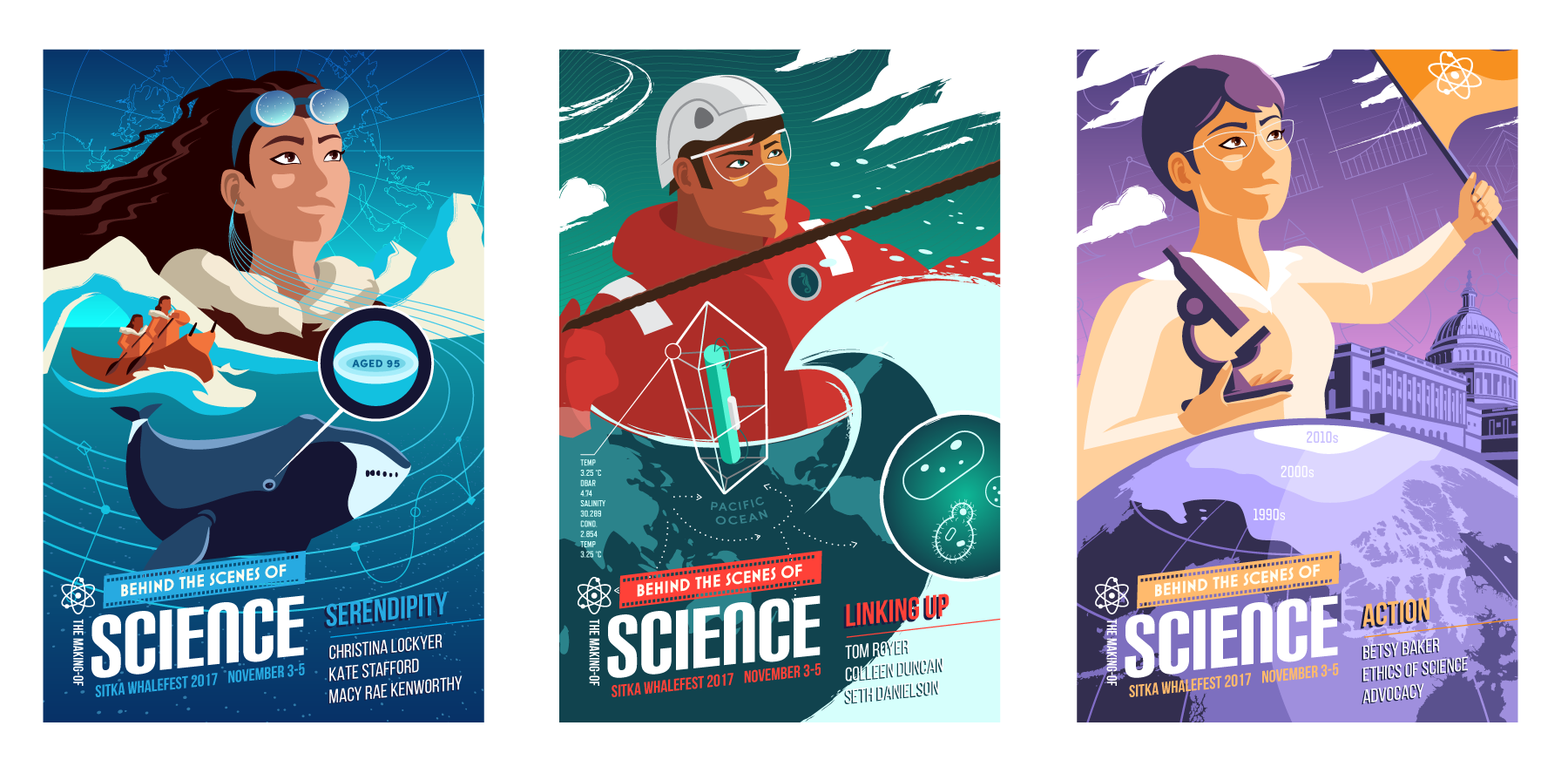 Beautiful Sitka lies along the coastal edge of Baranof Island in the Tongass National Forest and spectacular Southeast Alaska.  This remote community, with its myriad forested islands and rugged coastline, is home to whales and other marine mammals that can be observed each November during Sitka WhaleFest.  Enjoy delicious local seafood and shop Sitka's many galleries and shops.  Sitka's weather this time of year is in the 40's and lower 50's.  Rain or shine, the festival will go on!
AIR
Alaska Airlines, one of the west coast's major carriers (and one of the country's most highly rated airlines) has never abandoned its tradition of service to rural Alaska. Sitka has a direct flight daily from both Seattle and Anchorage, and a connecting flight to Juneau.  Thanks to Alaska Airlines, all registered participants receive a discount code for travel to Sitka WhaleFest; the discount code in included in the registration confirmation email.
FERRY
Alaska Marine Highway, The southern U.S. terminal is located in Bellingham, Washington (just north of Seattle). Departing from Bellingham, you can expect to stay aboard the ferry for roughly three days and two nights, sleeping either in a cabin, in one of the lounges, or camped on deck. Cafeteria service and showers are available on all ferries, but only the larger boats have private accommodations. The Juneau to Sitka ferry schedule is convenient for this year's festival. For reservations, more information, or a schedule contact: Alaska Marine Highway P.O. Box 25535 Juneau, Alaska 99802-5535; 1-800-642-0066 or 747-8737 in Sitka.
PRIVATE PLANE
Harris Aircraft Services, offering floatplane and twin engine aircraft service to and from Sitka's outlying communities. Generously offering special WhaleFest rates to attendees. For scheduling and rates call 907-966-3050.
Westmark Sitka is offering WhaleFest participants a discounted room rate of $119 per night. Mention WhaleFest when you call to make your reservation. The promotional code can not be used for online booking.
Sitka Aspen Hotel also offers WhaleFest participants a discounted rate of $149 per night. Use Book Online and enter symposium dates. Then use the drop down menu for discount code, click group attendee, and use booking code WHALEFEST.
Click here for Aspen Hotel booking
Housing is also available on the Historic Sheldon Jackson Campus through the Sitka Fine Arts Camp.
Click here to register for housing on campus
There are vacation rentals available in Sitka, including Karra's Vacation Rental. Book online, or call (907) 747-3978.
For more information about Sitka, other accommodations, or other visitor opportunities please contact Visit Sitka by visiting their website (www.sitka.org), following their Facebook page (www.facebook.com/VisitSitka) or calling 1-907-747-8604.